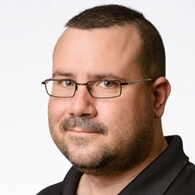 Before joining the journalism world in 2005, I spent 15 years doing consulting and freelance contracting within the IT space. My main focus was on infrastructure management and security.
My journalism career lasted for more than a decade. I was privileged to work with lots of talented writers and editors at several news organizations. I was even fortunate enough to win multiple awards for my work. But I needed a change.
After leaving journalism in 2018, I started working with a well-known, but otherwise unnamed security company doing threat research and publications. Honestly, I like being back in the security industry. Despite the ups and downs, it's a rewarding and challenging experience. I'm a father of two, grandfather of two, current host of Technical Outcast, and a former co-host of the Southern Fried Security Podcast. If you want to know more, just get in touch. Email <Steve (at) this domain>, if you'd like. However, Twitter is the fastest method of contact.
You can find me on GitHub or Twitter.
Image Credit:
Stock images used on this website can be found on Unsplash.com, PixaBay.com, and Slon.pics.